Marketing your Spanish property portfolio in national and international property portals can mean a substantial source of leads for your agency. But with so many portals in market, different plans, target audiences, formats, etc… it can also become a source of stress to your listing department.
A modern real estate agency needs extreme flexibility to push, move, update or delete listings from any portal, for unlimited properties, using any criteria you need. So please, stop doing manual updates for each property in each portal.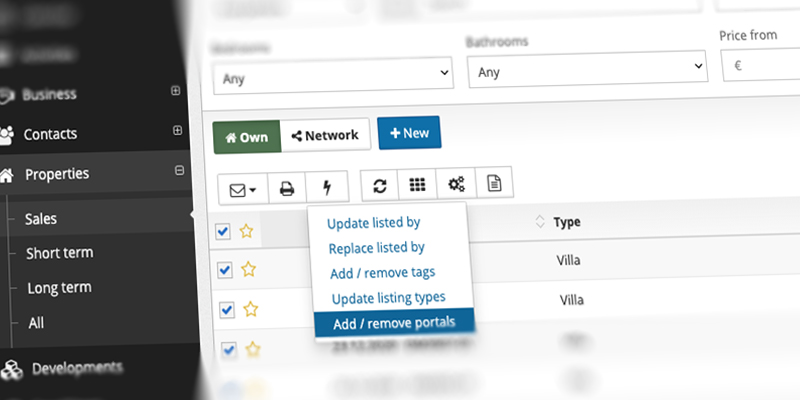 Meet professional listings management
Manage your listings in all your portals without even thinking on them. Use professional grade bulk actions and custom filters to keep updated an unlimited number of property portals.
Exercise: Find all villas between 1M and 2M euros, that you have listed in Fotocasa but not in Idealista and push them to Rightmove and LuxuryRealEstate. Of course, do not forget to push their videos and virtual tours
Done in 4 clicks by our users in Inmobalia CRM.
Click 1: Go to Sales
Click 2: Set the filters for the properties you want to update and click Search.
Click 3: Select All and click on Bulk Action "Add / Remove Portals"
Click 4: Select the portals you want to add or remove, click Save and all properties selected will be added/removed/updated in all the portals you did specify.
Just one tool to rule them all… auto-magically.