Email marketing, when done right, is probably one of the most low-cost and productive efforts you can do for your Real Estate agency. But it is also the most underestimated and misused. Blasting your whole database with the same email and naming it "Our newsletter" it is not the way. You are just trashing your clients, we've seen it many times.
Communicating with your clients, owners, colleagues, etc… must be natural, easy to create/send and measurable.
Plenty of email & automation tools out there.
Just Google for "email marketing" or "email automation" and you will find wonderful platforms like Hubspot, Sendinblue, Mailchimp, ConstantContact or ActiveCampaign to name a few. All of them have incredible functionalities that could work for your real estate agency, but it only takes 5 minutes of investigation to become aware it is not going to be easy. They need you to invest lots of your time or to hire a marketing specialist team to manage your contacts, create your content, report back, etc…
By the way, if you ever need one of these marketing gurús on the Costa del Sol, drop us a line. We know some of the most reliable marketing pros in the Marbella area and we are happy to help.
But did we say email marketing needs to be natural and easy, right?
Where is your contacts data?
If you already use any of the above tools, you know about creating many lists/groups of recipients, synchronising or updating new contact details from time to time, adding new fields you never thought you would need, etc… and always not being sure if the lists are complete or not. Never ending and time consuming tasks for your team or your marketing specialist, that most of the time fall short.
Exercise: How much it will take you to email all your english-speaking potential buyers that expressed interest in the last 18 months in buying a 4 bedroom villa on an aprox. budget of 1.5M in Sierra Blanca?
Yes. Our clients using Inmobalia CRM do this by themselves… in seconds.
Where is your product?
You final objective is to sell houses, true? Homes are your product and what you will be communicating  about with your customers, collaborators, owners, etc..  Hubspot or Mailchimp do not, and will never, know anything about your properties, your colleagues' ones, their features, their pictures, etc… unless you build each one of your newsletters, announcements, etc… manually. One by one.
Would it be great that your Drag & Drop email editor could add any property information from your database in 1-click?  Even better, to have custom templates that directly are built from the property in your CRM?
Yes. This exists and our agents use it daily. Do you see the point of what we've built?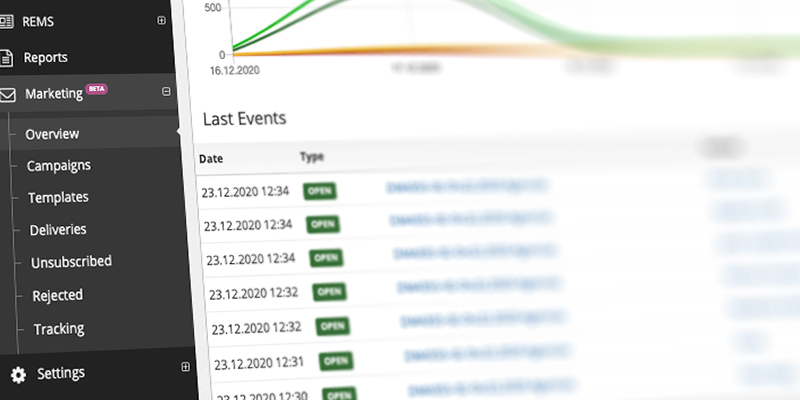 Just a powerful email marketing built inside Inmobalia CRM Real Estate Software for impressive emails campaigns that really generates business.
Done by yourself, in minutes, right now, zero extra work. Get in touch.